At night, when main doors or windows are not covered, light from within  attracts insects, sometimes by the thousands or more. Shades or drapes will do the trick and keep bugs from your windows, but what about the porch?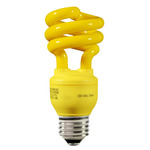 According to lighting source 1000Bulbs and content manager, Benjamin Rorie, "Low color temperatures are red-yellow and exhibit a long wavelength, while high color temperatures are blue-violet and exhibit a short wavelength. By coloring a bulb yellow, then, the manufacturer has decreased the color temperature and in doing so increased the wavelength into a spectrum unseen by insects.
"That's the science of how bug light lights work, but the larger question is whether they are effective. From personal experience, I can say yes, they are. However, bug lights are not a panacea for all your bug problems. This is for a couple reasons. One is that not all insects are the same; different bugs see slightly different wavelengths. Second, no light source is made up of one, pure wavelength. Even an apparently yellow light may exhibit some shorter (and bluer) wavelengths that insects may still see.
"To get the most out of your bug light, remember this: The bugs aren't there because they like the light; they're there because they like the smaller (and tastier) bugs that buzz around the light. If these smaller bugs sense any light whatsoever, it won't be long before they buzz their way to bask in it. And once the small bugs are there, it won't be long before the bigger bugs follow. Once that happens, you have a bug party on your hands, light or no light. The best thing to do to avoid a swarm of bugs is to turn the light off when you don't need it."
More Posts You May Find Interesting